Description
Sonoff S31 – Compact Design Smart Plug With Energy Monitoring US Standard
UL certificated – Secure and guaranteed
APP Remote Control – Manage electronic devices from anywhere

Power Consumption Monitoring (S31 Only) – Keep track of real-time power, current and voltage of your appliances and reports on APP
Historical Power Consumption Record (S31 Only) – Store 100 days of electricity usage data and total electricity cost
Overload Protection (S31 Only) – Set threshold value including power, current and voltage to ensure devices work securely
Sync Status – Provide real-time device status to your smartphone
Voice Control – Works with Amazon Alexa and Google Assistant to start a voice-controlled home
Timing Function – Supports to set 8 scheduled/countdown timers for devices
Share Control – Share devices to control with your family together
Smart Scene – Simultaneously triggered on/off a crowd of devices via tapping once
Easy Installation – Plug and play
Compatibility – Works perfectly with IFTTT and Google Nest
Overview
SONOFF S31 is a compact and lightweight US standard Wi-Fi smart plug with power monitoring. Both S31 and S31 Lite are UL certificated, this means they reach the indispensable security and reliability standard that a smart plug must have. Note that power consumption and over-load protection are available for S31.
The smart plug lets you control home appliances via eWeLink APP anywhere, anytime. Also, third-party platforms like Amazon Alexa and Google Assistant can seamlessly work with this plug for a voice-controlled home. The small size makes the smart plug will not occupy another outlet of your socket or power strip during, which reserves more space for other plugs. Convenient to use, plug and play.
Bring a S31 home, keeping track of the real-time power, current and voltage of your home appliances via APP to view which one is power-hungry and power-saving. You can also measure electricity consumption for a specified period. Besides, Features over-load protection which allows you to set the power, current and voltage value for your appliances, and this smart plug will automatically turn off connected devices in case of reaching any one of the set value. S31 provides you 100 days of historical power consumption data record (support to export) and monthly electricity bill forecast. Monitor and understand which appliances are consuming most, then create scheduled or countdown timers to keep your electricity bill down. For other features like smart scene, sync status, share control, these are the same as S20 smart plug.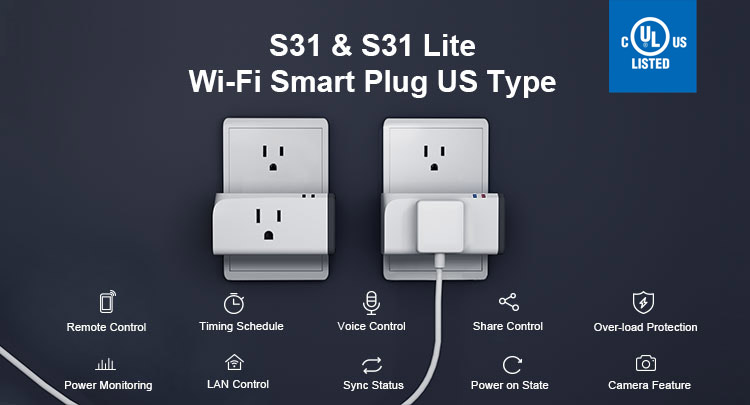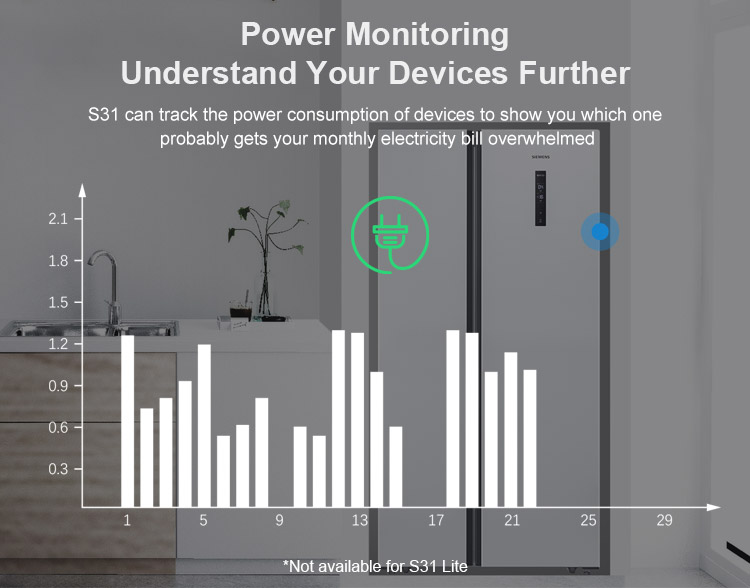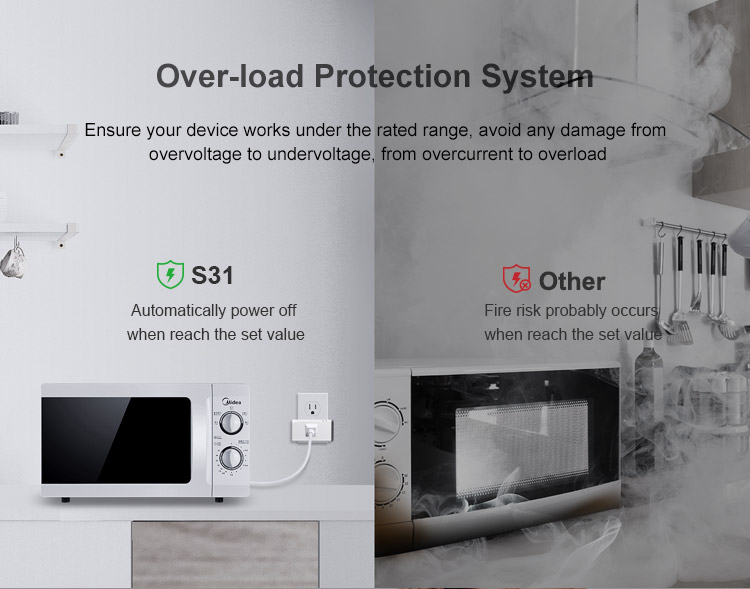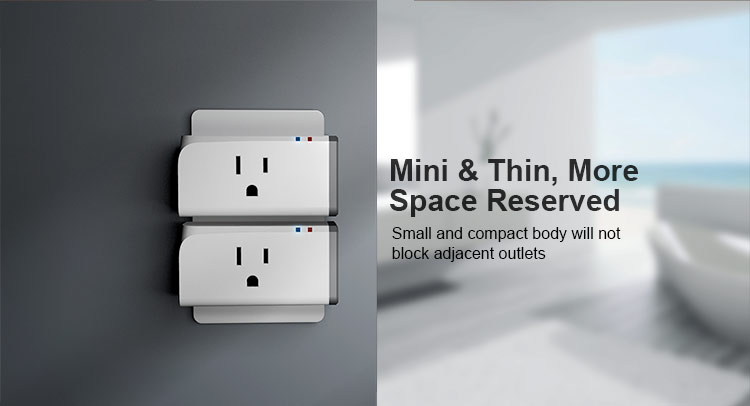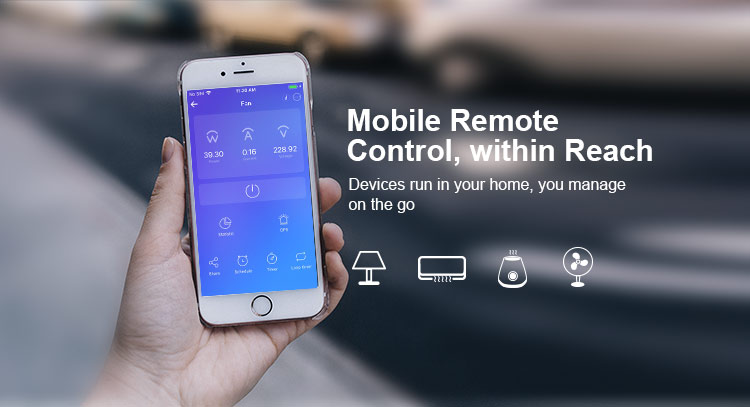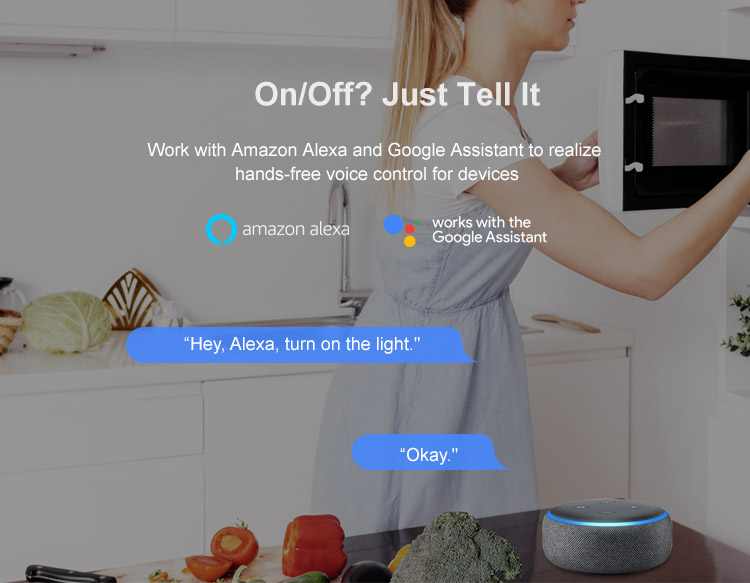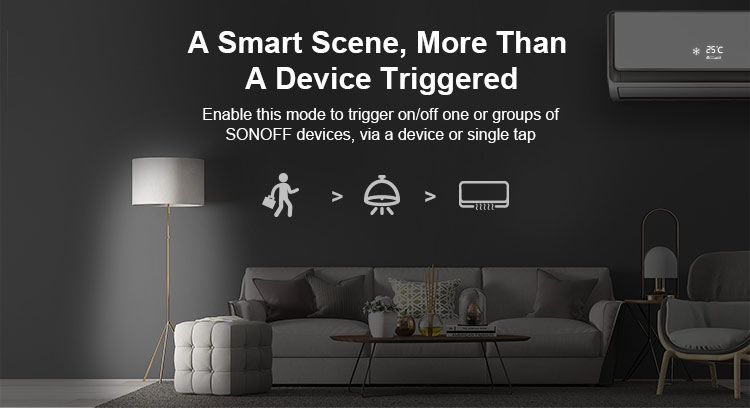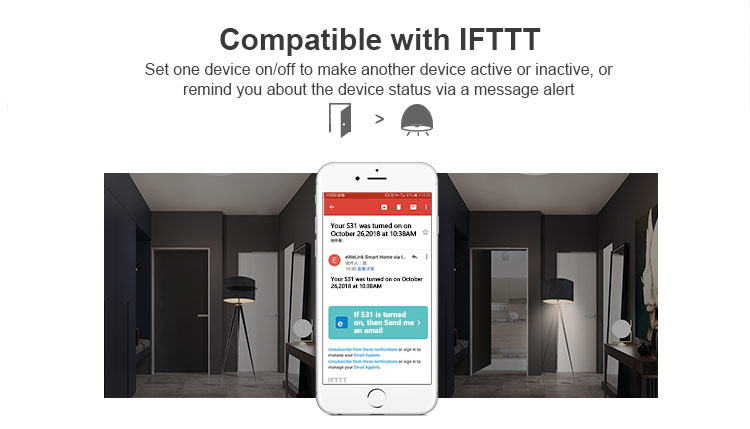 Features
Turn on/off connected device wirelessly anywhere anytime
Provide real-time power/current/voltage of your appliances (S31 Only)
Provide 100 day historical power consumption data and electric bill (S31 Only)
Set limited power/current/voltage value to auto-off, protect from overload (S31 Only)
Device status synchronously display on your phone
Support Max 8 enabled scheduled/countdown timing tasks
Share Control with your family
Works with Amazon Echo, Echo Dot, Amazon Tap
Works with Google Home, Google Nest
Works with IFTTT
Specifications
Max. Current: 15A
Voltage Input: 120V AC 60HZ
Wireless Standard: 2.4GHz, 802.11 b/g/n
Receive Sensitivity: 802.11b: <-84dBm(11Mbps); 802.11g: <-68dBm(54Mbps)
Output Power: 802.11b:16±2dBm; 802.11g:13±2dBm
Security Mechanism: WEP/WPA-PSK/WPA2-PSK
Encryption: AES/TKIP
Working Temp: -20 °C ~ 75 °C
Working Humidity: 10%-80%
Product Dimensions: 75.7×39.7x32mm
Gang: 1
Weight: 135g
ADDITIONAL INFORMATION
| | |
| --- | --- |
| Weight | 135 g |
| Discontinued | No |
| Model | IM180118100 |
| Link Wiki | No |
| Works With Google Nest | Yes |
| Works With Amazon Alexa | Yes |
| Works With Google Assistant | Yes |
| EWeLink Support | Yes |